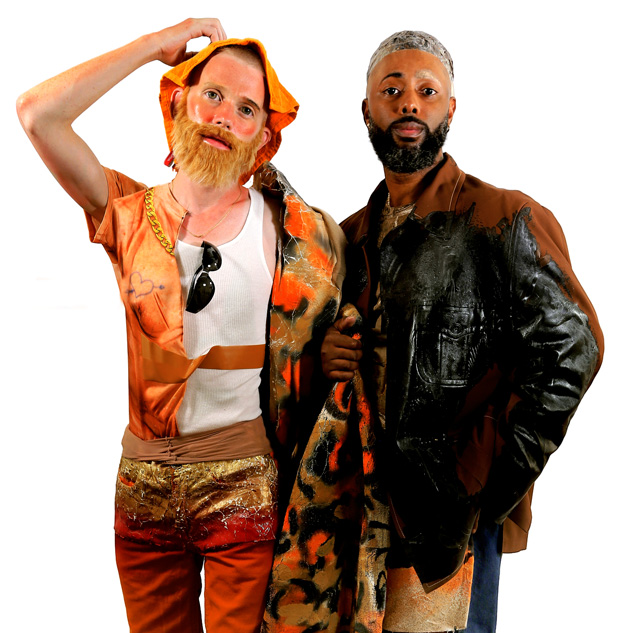 Wickerham & Lomax is the collaborative name of Baltimore-based artists Daniel Wickerham (b. Columbus, Ohio, 1986) and Malcolm Lomax (b. Abbeville, South Carolina, 1986). Their practice is based on the accelerated exchange of frivolous information, gossip, and codified language that crystallizes into accessible forms in hopes of giving dignity to that exchange.
Wickerham & Lomax are new media artists focused on the impact of cultural practices and productions as formative structures on the individual and the collective. Since 2009, they've utilized digital imagery, sculpture, CGI, video and the web –– to work across diverse media, curatorial platforms, and institutional contexts. The work presents questions of identity and the body, focused on the impact of digital technologies and social spaces on the formation of subjectivities and speculative corporealities. The collaborative has created an approach that allows components of their projects to work through a networked sensibility. More recently exhibitions have evolved to function as containers of swarm-like indexes, with each sign forming covalent bonds with those around it. Through employing queer sensibilities, speculative fictions, and networked virtuality the duo presents a discourse focused on identity, subculture, marginality, and connectivity as a way to complicate mainstream tropes. Wickerham & Lomax are influenced by queer theory, speculative fiction, human geography, and the socio-political as it relates to urban space.
In 2021 the Baltimore Museum of Art acquired the Wickerham & Lomax work Romance as Intrusion (2020) for its permanent collection. Earlier in the year Artforum commissioned Wickerham & Lomax for its Project series, which was published in the April 2021 issue.
Recent exhibitions by Wickerham & Lomax include Domestic QT & The Spatial Anomalies at von ammon co, Washington, DC (2020–21); The Writers Room at the Reginald F. Lewis Museum, Baltimore, MD (2018); DUOX4Odell's: You'll Know If You Belong, commissioned by Neighborhood Lights, Light City, Baltimore (2017); Uncool at Terrault Contemporary, Baltimore (2016); Take Karaoke: A Proposition for Performance Art at Brown University, Providence, RI (2015); the Sondheim Prize Finalist Exhibition, Baltimore (2015); Girth Proof at Dem Passwords, Los Angeles (2015); the premiere of Encore in the AFTALYFE at the Artists Space booth, Frieze NY 2014; and BOY'Dega: Edited4Syndication for New Museum's First Look series; DUOX4Larkin, Artists Space, New York (2012).
Wickerham & Lomax are the recipients of the 2020 Trawick Best in Show prize of the Bethesda Contemporary Art Awards and the 2015 winners of the $25,000 Janet and Walter Sondheim Prize.
Wickerham & Lomax are represented by Von Ammon Co.
---